Charles Lindbergh's First Solo Flight & First Plane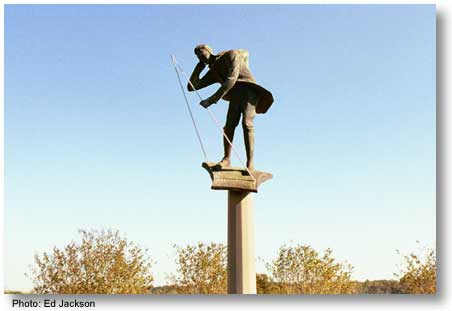 Charles Lindbergh Monument Located at Souther Field on Ga. 49 several miles north of Americus, Ga.
The following text is from the Historical Marker at Monument
LINDBERGH'S SOLO FLIGHT May 1923

The "Lone Eagle" first flew solo in early May, 1923 from Souther Field. Charles Lindbergh had come to Americus to purchase a surplus aircraft from the World War I training center. He chose a Curtiss JN4 "Jenny." He got the plane with a brand-new OX-5 engine, a fresh coat of olive drab dope, and an extra 20 gallon fuel tank for $500. Lindbergh had less than 20 hours instruction when he soloed. He practiced take-offs and landings for a week; then having filled up with forty gallons of gas, he set course for Montgomery, Alabama, to start his barnstorming career. Four years later Lindbergh flew alone in the "Spirit of St. Louis" from New York to Paris and into aviation history.
Source: Carl Vinson Institute of Government, University of Georgia, http://www.cviog.uga.edu
.
One warm May afternoon in 1923...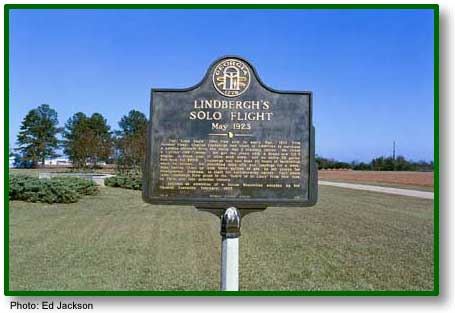 Charles Lindbergh Monument Located at Souther Field on Ga. 49 several miles north of Americus, Ga.

One warm May afternoon in 1923, a smokey brown cloud of dust rose above the flat, middle Georgia cotton patch as a blue Harley Davidson motorcycle made its way toward the entrance to Souther Field. On it rode a tall, thin young man with five hundred dollars in his boots. He had saved the money for the past several months while working as a wing walker for a flying circus in Jacksonville, Florida. Word had gotten around among the flyers there that brand new Jennies could be had in Americus. Slim, as he was called by his friends, intended to talk to a Mr. Wyche of Macon about buying one.

Souther Field had been a beehive of activity during the war. Over a hundred thousand meals had been served to workers there during the airport's hurried construction. But the war had ended and the main activity at the airfield had become the surplus airplane auctions. Souther Field was completing its transition from one of the Army Air Corps' favorite pilot training bases to a mecca for would-be barnstormers looking for a deal on an airplane still in the crate. The week that Slim's motorcycle had arrived, the last of the military personnel were pulling out. The auctions were continuous. Big-time buyers like Mr. Wyche could snap up a load of Jennys for about fifty dollars apiece. Altimeters could be bought in lots of 200 for around a dime each and propellers were going for around twenty-six cents.

Wyche had his hangar full of crated Jennies. His young buyer had over a hundred from which to chose. The problem was that it left no room for the assembly of the plane. For that, they went to see the man who had sold Wyche the planes, Glenn Messer, down at hangar number seven.

"Glenn", said Wyche, "I've sold this airplane to this young man. Would you mind his setting it up here in the hangar?" "No objections whatsoever." Messer replied and he had his chief mechanic, Orville Walker, assist with the assembly. Curtis Patrick and Bill Paulsen, two local men employed by Mr. Wyche, also helped set up the Jenny. During the next week, Charles Lindbergh slept in the deserted barracks and during the day he watched intently as his plane was assembled.

Once the job was done, Lindbergh took the plane out to the field and taxied around for awhile, getting the feel of it. Although he had some dual instruction time to his credit, he did not advertise the fact that he had not actually soloed. After nearly dinging up the plane with an attempted takeoff, he taxied back to the hangars and asked Mr. Messer if he would ride with him. A few hours later, Messer exited the craft satisfied that his student would do fine but he suggested that Mr. Lindbergh wait till later in the afternoon when the wind had calmed. Later that day, Charles Lindbergh made his first solo flight above the cotton fields near Americus. A few days later, he boarded the plane again and set off for Montgomery to begin his barnstorming career.

Source: By Bennett Liles, The Georgia Webcasting Group, Inc., http://www.georgiawings.com.