Henrietta Paine & The Spirit of St. Louis
September 1 or 2, 1927 in Pierre, South Dakota

Recently discovered a picture of the Spirit of St Louis
Hello Pat--
I recently discovered a picture of the Spirit of St Louis that I was unaware we owned, which led to research and finding your wonderful site. Please allow me the liberty of a detailed explanation.
My mother, who is now 84, grew up in Ree Heights SD. Her father and older brothers were pilots and airplane mechanics in the 1920s and '30s. My grandfather, Morris Paine, was an acquaintance of Clyde Ice, among others.
When Morris died in 1974 his widow (he had remarried after my grandmother's death in 1956) gave a box of loose photographs to my aunt Helen, who took what she wanted to keep and gave the rest to my mother. They have pretty much been ignored in the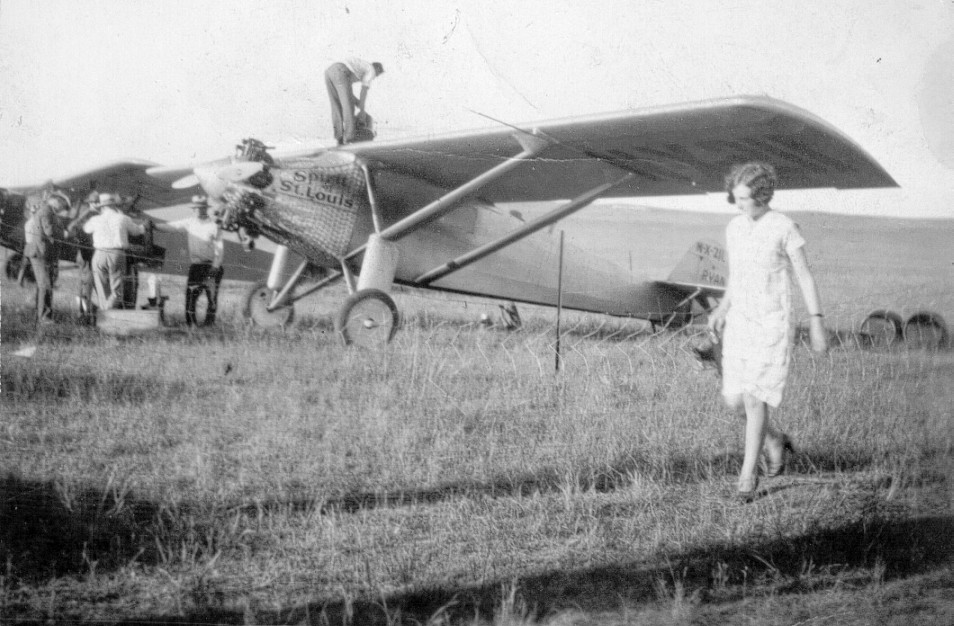 Click to Enlarge

Henrietta Paine, 1891-1956, walking past the Spirit of St. Louis on September 1 or 2, 1927 in Pierre, South Dakota

intervening almost 30 years, until recently my mother has asked me to bring from storage one box at a time of "stuff" for her to sort through. A few weeks ago Grandpa's box of pictures popped up. I was amazed to find the picture of the Spirit of St Louis among them.

With internet research, and in particular your site, I was able to ascertain that this must be the Pierre stop of the Guggenheim Tour. The back of the picture has a handstamp from the photofinisher, Rise Studio in Rapid City SD, dated Sept 6, 1927, just 5 days after Lindbergh's stop in Pierre.

My immediate thought was that the woman in the foreground is my grandmother (Henrietta Paine, 1891-1956) but Mom thought it might be Henrietta's sister, Bessie, who greatly resembled her. I emailed Mom's first cousin David (Bessie's son) to see if he recalled his folks going to see the Guggenheim stop in Pierre. David was also much involved with flying in those days. I also contacted my aunt Helen who had first picked through the pictures, to see if there were any others. There were not.

Here I will paste David's reply that he emailed to me on July 7, 2003 the portion pertaining to the picture:
---
I got your message and picture, and will say that I didnąt have any idea about who might have visited the flight at Pierre. I never heard my folks say anything about it, so it must have been Morris and Henrietta. I can remember listing to the radio when the flight to Paris was on, and we were doing business in the old store building at the north end of the main street in Ree Heights at the time. I think we had just moved the Implement business to that store.
The airport at Pierre at that time was about two miles north of Pierre, on the east side of highway 14, which used to go north several miles as you left Pierre. A rather large hill to the north of the airport with a monument on it. Now highway 1804. Just a large rather level field of grass with no buildings. The barrels in the lower right corner were the barrels that we bought aviation gas from Standard Oil, who kept some in stock in every dealership in those type of barrels.
I never saw this airplane except in the museum. But Rapid Air Lines did have two of them, and I have cranked and poured gas into them. As I remember them, they were among the first with brakes and the main landing gear was rather far forward. With small tail surfaces, and short control horns it took a healthy push to get the tail up with 4 passengers. The fellows that flew them got a good work out when barnstorming with them.
I would have no idea if anyone remembers that time. I am 92 and have lost most of my old pals.
---
Additionally, I recently attended a family wedding in Salem OR and stayed with my mother's older brother Jim, 86, who would have been 10 at the time of the Guggenheim tour. He had no recollection of it, but it would have been his older brothers, now gone, who might have accompanied his parents. Ree Heights was only about 80 miles drive to Pierre, and I'm sure they wouldn't have missed seeing Lindbergh for anything!
So, I am positive that this picture is of the Guggenheim stop at Pierre SD, and the woman in the foreground is my grandmother, Henrietta Paine. I don't know if Morris took the picture, or if another uncle might have been along and Morris could even be one of the men in the background. I wonder if the fellow on top of the plane might be Lindbergh himself? I would be most interested in any speculation any viewers might have.
I would be most honored to have this picture added to the website.
Thanks again for a really neat website, and don't hesitate to ask any questions you may have for me.
Kindest regards,
Bob
By Bob Lodge Wenatchee WA
Submit your Lindbergh Story >>