Lindbergh lands the Spirit of St. Louis in Seattle on September 13, 1927.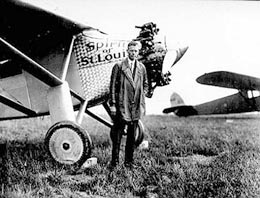 Charles Lindbergh and the Spirit of St. Louis at Sand Point, 1927
Courtesy MOHAI
He Made History
The Spirit of St. Louis was the Ryan high-wing monoplane with a single, radial, air-cooled engine in which Lindbergh made the first nonstop flight from New York City to Paris on May 20-21, 1927. It was a solo flight that lasted 33.5 hours and covered 3,600 miles. For completing it, Lindbergh won a $25,000 prize.
Lindbergh's stop in Seattle was one of 80 he made on a three-month tour of the United States to promote aviation and the building of airports. Lindbergh took off from Spokane that morning, crossed the Cascades over Naches Pass, and flew over Enumclaw, Auburn, and Renton before heading to Seattle.
Buzzing the UW
Lindbergh passed over downtown Seattle, Queen Anne Hill, and took a low pass over University of Washington Stadium before landing at Sand Point Naval Air Station to greet a welcoming crowd of 3,000 people. He boarded the yacht Alarwee, which took him to the University Stadium, where he spoke to 25,000 fans in attendance.
Lindbergh promoted aviation, predicting that soon air express would start transporting goods across the United States. In the near future, he prophesied, "huge" passenger planes with several motors would be able to transport as many as 15 passengers on scheduled service between cities.
He next stopped at Volunteer Park on Capitol Hill where 30,000 school children greeted him.
Then he headed downtown to a parade along 2nd Avenue:
"People were massed along the streets. Heads bobbed out of office windows. Hundreds looked down from roofs. Lamp posts and poles were festooned with boys of assorted sizes. On 2nd Avenue 'Lindy' was accorded a 'paper salute.' Down from the windows came showers of white bits" (The Seattle Times).
This was the first use in Seattle of the New York City "paper salute" -- the defenestration of streams of ticker tape and waste paper from business buildings along a parade route to recognize noted guests.
His Airplane Constructed from Washington Trees
The next morning Lindbergh headed back to the Spirit of St. Louis to continue his tour. Lindbergh took off from the Sand Point Naval Air Station at about 9:15 a.m. He again flew over Queen Anne Hill and downtown Seattle, and then headed over Georgetown where an airport was proposed. (This became the King County Airport, or Boeing Field.) He flew over Renton where he dropped a package of leaflets that promoted aviation. He had dropped similar packages on hundreds of towns. He then flew south and circled the Capitol dome at Olympia before heading to his next stop at Portland.
Washington state was especially proud of the Spirit of Louis because it was constructed almost entirely from Western Washington Spruce trees.
Source
The Seattle Times, September 14, 1927, pp. 1, 13, 14.By Greg Lange, 1999