The crew of the Remembrance Goodwill Tour are students at Guilford Technical Community College
Since all of the crew are aviation students, each has set goals in the aviation field. Each crew member is a participant in the school's aerospace club, as well as elected officers to the start-up chapter of Alpha Eta Rho, an aviation fraternity. The knowledge obtained through the completion of the tour will not only be valuable to the general public, but also to the crew members. Each crew member will have an extensive understanding of the original Goodwill tour, such as events of the tour and background information. In addition, Donald Keyhoe's book, "Flying with Lindbergh" will be read by each member. The first-hand accounts from Donald Keyhoe will be invaluable information the crew will use while on the trip. Also, there will be an understanding of the Wright Brothers and events leading up to Lindbergh's transatlantic crossing. Our group is currently applying to become a non-profit organization under the 501 c(3) guidelines.
Daniel Lawrence Murray, Jr.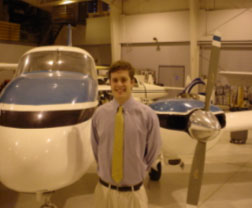 Daniel Lawrence Murray, Jr.
Birthday: November 25, 1980
Age: 22
Hometown: Greensboro, North Carolina
High School: Page High School (1999)
Dan'l Murray was born in Jacksonville, FL where his father was stationed as a Naval Aviator. He was exposed to aviation at an early age and has had an enthusiastic interest in all aircraft. He is currently working on his private pilot certificate. Dan'l is a member of a start-up chapter of Alpha Eta Rho fraternity, and acting as president-elect. Also, he is actively involved as a member of the Aerospace Club at Guilford Technical Community College located in the T.H. Davis Aviation Center.

After receiving an associate degree in GTCC's career pilot option, he plans to attend a four year college to double major in Aerospace Engineering and Aerospace Science. His ultimate goal in the aviation industry is to become either a professional airline pilot or a corporate pilot.

What tasks he completed:
organized and led all group meetings
assigned tasks to each group member
researched and contracted all media agencies in each city
researched the history of original tour
researched Cessna 182 aircraft locations
contacted Greg Maryniak (Executive Director of X-Prize Foundation)
What responsibilities he will have during the tour:
Public Relations Director

Andrew Morgan Wheeler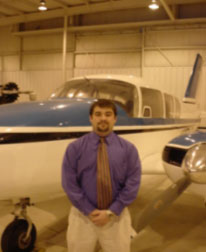 Andrew Morgan Wheeler
Birthday: February 5, 1979
Age: 24
Hometown: Greensboro, North Carolina
High School: PNortheast High School (1997)
Andy was born and raised in Meridian, Mississippi. He has always expressed an interest in flying. Andy began his flight training in January 2002, and as of February 28, 2003, he has accumulated 150 total hours of flight time. He is currently attending Guilford Technical Community College with the intention of receiving an Associate's Degree after completing the fall 2003 semester. At this time, he plans to transfer to Middle Tennessee State University which is located in Murfreesboro, Tennessee. He plans to attend MTSU in pursuit of a Bachelor of Aeronautical Science Degree.

His goal is to have a career in the aviation industry, but currently is undecided as to the particular field of interest. He is considering the commercial airline industry, the freight industry as well as the corporate industry. While attending Guilford Technical Community College, he has become a member of the Aerospace Club. He is also a charter member of GTCC's chapter of Alpha Eta Rho, where he serves as Treasurer.

What tasks he completed:
researched Cessna 182 information
researched all aviation museums in each city
research airport information
calculated projected fight time
established weather minimums
What responsibilities he will have during the tour:

Justin Daniel McKeithan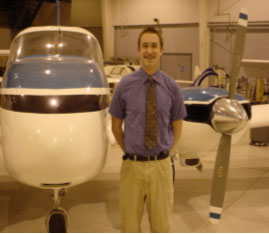 Justin Daniel McKeithan
Birthday: June 20, 1984
Age: 24
Hometown: Salisbury, NC
High School: East Rowan High School (2002)
Justin McKeithan was born into a military family in Portsmouth, VA. His family moved to Naval Air Station Alameda, in Oakland, CA. Justin lived on the Air base until it was closed down in 1991. Justin at a young age was exposed to Military Aviation, not only through his family, but from the very area he lived in. In 2001, Justin moved to North Carolina to go to college on the East Coast.

While in High School, Justin was the Assistant Editor of his Yearbook, NC State Scholastic Scholar, and graduated with honors. All four years he participated in the Varsity swim teams at both of his high schools, and placed at the state level his senior year.

Currently, Justin has 45 hours of flight time and should have an instrument rating by June. Justin's future goals in aviation are to graduate with a bachelor's degree in engineering and pursue either a military or commercial flying career.

What aspects of the project he worked on:
Researched Hotel and Lodging
Estimated Distance and Time Calculations
Data Compilation
What responsibilities he will have during the tour:
Activities Director
Ground Activity Director